Bertrice Small is one of my all-time favorite romance writers and when I saw that the final book of the World of Hetar was coming out, I pre-ordered it. - I just had to have it. I also got the next in the Border lord series.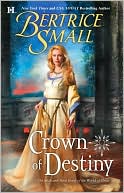 Crown of Destiny
Small's sixth and final World of Hetar erotic fantasy (after 2009's The Shadow Queen) wraps up the series. Lara, the half-faerie woman who has repeatedly saved the land of Terah in the past, is ready to do it again when her evil son, Kolgrim, becomes engaged to a woman whose magical powers will amplify his own. Small includes the plotting and intrigue, magic, and boatloads of sex that her readers have come to expect, but the story lacks the rich detail and captivating scenes of her older books. Lara's unfulfilled destiny and all the major plot points from the previous books are explained ad nauseam, and sex scenes take the place of conversations that might advance the plot. Only the most loyal fans will endure to the end.
Publisher's Weekly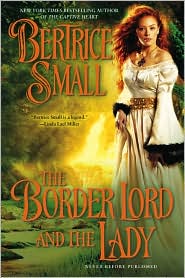 The Border Lord and the Lady
Lady Cicely Bowen, confidant of Queen Joan Beaufort at the Scottish court, is determined to marry only a man she loves. However, her plans are dashed when she meets rough Scottish border lord Ian Douglas, who is so captivated by her that he kidnaps her away to his lands, convinced that she will fall in love with him. Despite a tempestuous beginning, Cicely soon is intrigued by the uncouth but gentle Douglas. Ever-popular Small concludes her Border Chronicles (A Dangerous Love, etc.) with this sexy, albeit mostly predictable, romp along the Scottish borders. As readers have come to expect, heroine Cicely is tough, smart and wildly independent. Small manages to keep the romance fresh with fliratations, steamy scenes and political intrigue. Fans of her work will find it entertainingly familiar, which with a writer of Small's talent, is no small thing.
Publishers Weekly