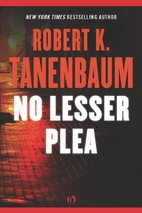 I was really worried when I started this book because being set in the 1980's when it was written, I thought that it might show age in missing technology (computers and cell phones, etc.) but was very pleasantly surprised that it really wasn't an issue.
The story is of a young Asst DA trying to get justice for 2 murder victims and having to deal with a murderer who plays against the system by faking mental disorders.
The writing was crisp and the story well-told keeping this reader on the edge of her seat while characters worked to find enough evidence for conviction along with proof of the mental illness deception.
★★★★
GENRE:

Mystery
CHARACTERS:

Butch Karp, Marlene Ciampi,Mandeville Louis, Donald Walker, Preston Elvis
Series/ Progress:

Butch Karp and Marlene Ciampi 1/28
DATE READ:

October 23 - October 31
NO. OF PAGES:

316
Challenges:

75, Category, TIOLI
SOURCE:

Nook