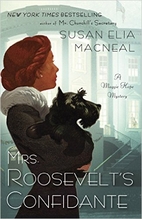 America has joined the war and Maggie Hope as secretarial staff accompanies Winston Churchill to Washington. At the same time, one of Mrs. Roosevelt's secretary is missing in action so Maggie is recruited to aid Mrs. R and goes with her when they discover the missing secretary dead. Maggie knows how important the Americans are to the war effort and works in the background to protect Mrs. R as well as uncover the apparent conspiracy which could destroy the American war cooperation.
The conspiracy and historical events are, as usual, cleverly woven together leaving the anticipation of continued adventures for Maggie and her friends.
Love this series! Thanks to NetGalley and publishers for an advanced e-copy to read.
★★★½
GENRE:

Mystery
CHARACTERS:

Maggie Hope, Winston Churchill, FDR, Eleanor Roosevelt, Byrd Prentiss
Series/ Progress:

Maggie Hope series 5/5
DATE READ:

August 19 - August 21
NO. OF PAGES:

352
Challenges:

75, Category, TIOLI , AlphaKit
SOURCE:

NetGalley