Mailbox Monday was originally hosted by The Printed Page but now it is on tour each month. For the month of January it will be hosted by
Rose City Reader
. I know I'm a bit late today but it's still Monday so it counts!
This past week I got two books in the mail - one for review and a complete surprise and one from a book club for me:
1/10/11 $9.99 BOMC2
Paul Stevens is expected to retire, and Ruth Bader Ginsberg may well follow suit. With a new president choosing their replacements, it's the perfect time for Secret Lives of the Supreme Court-an irreverent look at the lives, personalities, and history of this exclusive club, with profiles of everyone from John Jay and William Howard Taft to Clarence Thomas, Samuel Alito, and John Roberts. Readers will learn about their most important cases and their most bizarre personality quirks: Thurgood Marshall was a soap opera junkie, Benjamin Cordozo died a virgin, Hugo Black was a Klansman, Sandra Day O'Connor started a Jazzercise class for fellow lawyers, and much more. Complete with 35 irreverent portraits, Secret Lives of the Supreme Court will be a hit with U.S. history buffs and anyone seeking a fuller understanding of current events.
Barnes & Noble
Scones & Bones (A Tea Shop Mystery)
1/13/11 free from author for review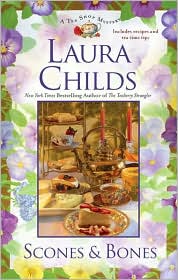 Indigo Tea Shop owner Theodosia Browning is lured into attending the Heritage Society's "Pirates and Plunder" soiree. But it's an antique diamond skull ring that gets plundered by someone who murders a history intern in the process. Theodosia knows she'll have to whet her investigative skills to find the killer among a raft of suspects.
Sounds like to great books to me! What came in your mailbox this week?