Another Mailbox Monday!!! Mailbox Monday is hosted by Marcia at
The Printed Page
. This is a feature where we all share with each other the exciting books that showed up at our doors this week. WARNING: Mailbox Mondays can lead to extreme envy and ever-growing wishlists!!
by Y.S. Lee
Synopsis
Introducing an exciting new series! Steeped in Victorian atmosphere and intrigue, this diverting mystery trails a feisty heroine as she takes on a precarious secret assignment.
Rescued from the gallows in 1850s London, young orphan (and thief) Mary Quinn is surprised to be offered a singular education, instruction in fine manners — and an unusual vocation. Miss Scrimshaw's Academy for Girls is a cover for an all-female investigative unit called The Agency, and at seventeen, Mary is about to put her training to the test. Assuming the guise of a lady's companion, she must infiltrate a rich merchant's home in hopes of tracing his missing cargo ships. But the household is full of dangerous deceptions, and there is no one to trust — or is there? Packed with action and suspense, banter and romance, and evoking the gritty backstreets of Victorian London, this breezy mystery debuts a daring young detective who lives by her wits while uncovering secrets — including those of her own past.
Candlewick Press sent me this to me for review.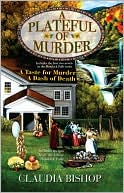 A Plateful of Murder
by Claudia Bishop
Synopsis
The first two Hemlock Falls mysteries-a winning recipe for mystery lovers. A Taste for Murder takes readers to the festival at Hemlock Falls, featuring a reenactment of the 17th-century witch trials. But this year the mock execution becomes all too real when a guest at the Inn is crushed under a pile of stones. The killer has not been identified-yet. In A Dash of Death, Helena Houndswood is the epitome of class when the cameras are rolling. Behind the scenes, this expert on style is a snob with a heart of stone. She's furious to hear that the decidedly déclassé women of Hemlock Falls have won her TV show's design contest. When one winner goes missing and the other is found dead, Helena falls under suspicion. Murder can be so tacky.
My friend, Linda, from Librarything sent this to me since she mistakenly bought it when she already had read them. Thanks, Linda



Hush
by Kate White

In her first stand-alone thriller, White effectively blends mommy-lit issues with murder and suspense. Recently separated and finally finding her emotional footing, Lake Warren has been hired as a marketing consultant for a Park Avenue fertility clinic and has even started a flirtation with a handsome doctor. But then she's hit by a double whammy. Her soon-to-be-ex is seeking full custody of their two children, and the doctor has been murdered (hours after Lake slept with him). Afraid that the police will suspect her and that her husband will use this against her in their custody battle, Lake keeps quiet about her hookup. Now she is faced with scary late-night calls, an attack on the family pet, a husband looking to trip her up, and the police just this close to coming after her for murder.

Book Report Network sent this for review.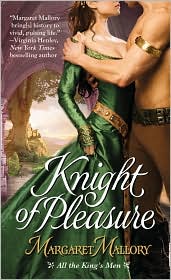 Knight of Pleasure
by Margaret Mallory
Synopsis

THE GREATEST PASSION
Lady Isobel Hume is an expert swordswoman who knows how to choose her battles. When the king asks her to wed a French nobleman to form a political alliance, she agrees. But that's before the devilishly charming Sir Stephen Carleton captures her heart-and tempts her to betray her betrothed, her king, and her country.

IS WORTH THE GREATEST PERIL
Sir Stephen Carleton enjoys his many female admirers-until he dedicates himself to winning the lovely Isobel. So when a threat against the king leads Isobel into mortal danger, Stephen has a chance to prove that he is more than a knight of pleasure...and that love can conquer all.
I won this in a giveaway at Bookin with Bingo.

Synopsises by Barnes & Noble