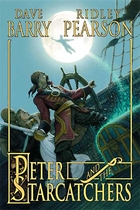 ★★★½
GENRE:

Children's, Young Adult
SUBJECT:

orphans, pirates, stardust, mermaids
Setting:

Neverland
CHARACTERS:

Peter, Molly, Black Stache, Slank, Smee, Orphans, Fighting Prawn
DATE READ:

February 27 - March 4
NO. OF PAGES:

451
Challenges:

75, Category, TIOLI
SOURCE:

Audio stockpile
PLOT:....................................................................3.00
CHARACTERIZATION:.......................................3.50
TOPICS: ...............................................................3.50
STYLE:..................................................................3.50
ORIGINALITY:.......................................................3.50
ADDICTIVENESS:..............................................3.50
OWNERSHIP:......................................................3.5
0
Threshold Quality.................................................4.00
Average..............................................................................................3.63
Peter and other orphan boys are placed on the ship Neverland and set sail for Rundoon not knowing that they are accompanying Molly Aster, a starcatcher. When the ship is attacked by pirates searching for a trunk filled with starstuff, the adventures begin!
This book was loads of fun, sort of a prequel to Peter Pan showing how Peter became the way he is, why he can fly, how Neverland got its name, and even the birth of Tinker Bell.
Looking forward to the next adventure!