I'm normally not the type to venture out in the snow so yesterday when the forecast called for snow showers, I "girded my loins" as the old fashioned books would say and headed out for a very special occasion - a lunchdate with one of my first friends at LibraryThing - sjmccreary AKA Sandy. Sandy's husband was here in DC for business and Sandy came along. She jumped on the Metro and I picked her up and we found a nice restaurant to sit, eat and talk for hours. It's so wonderful to "meet" someone who's been your friend for years but you've never met.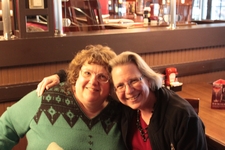 We talked about family, weather, jobs, childhoods, and loads of other things that we had in common but especially books!
We had a great time! Thanks Sandy, for a special day!